MJN 2020 Issues
Malaysian Journal of Nutrition (Mal J Nutr)
Volume 26 No.1, 2020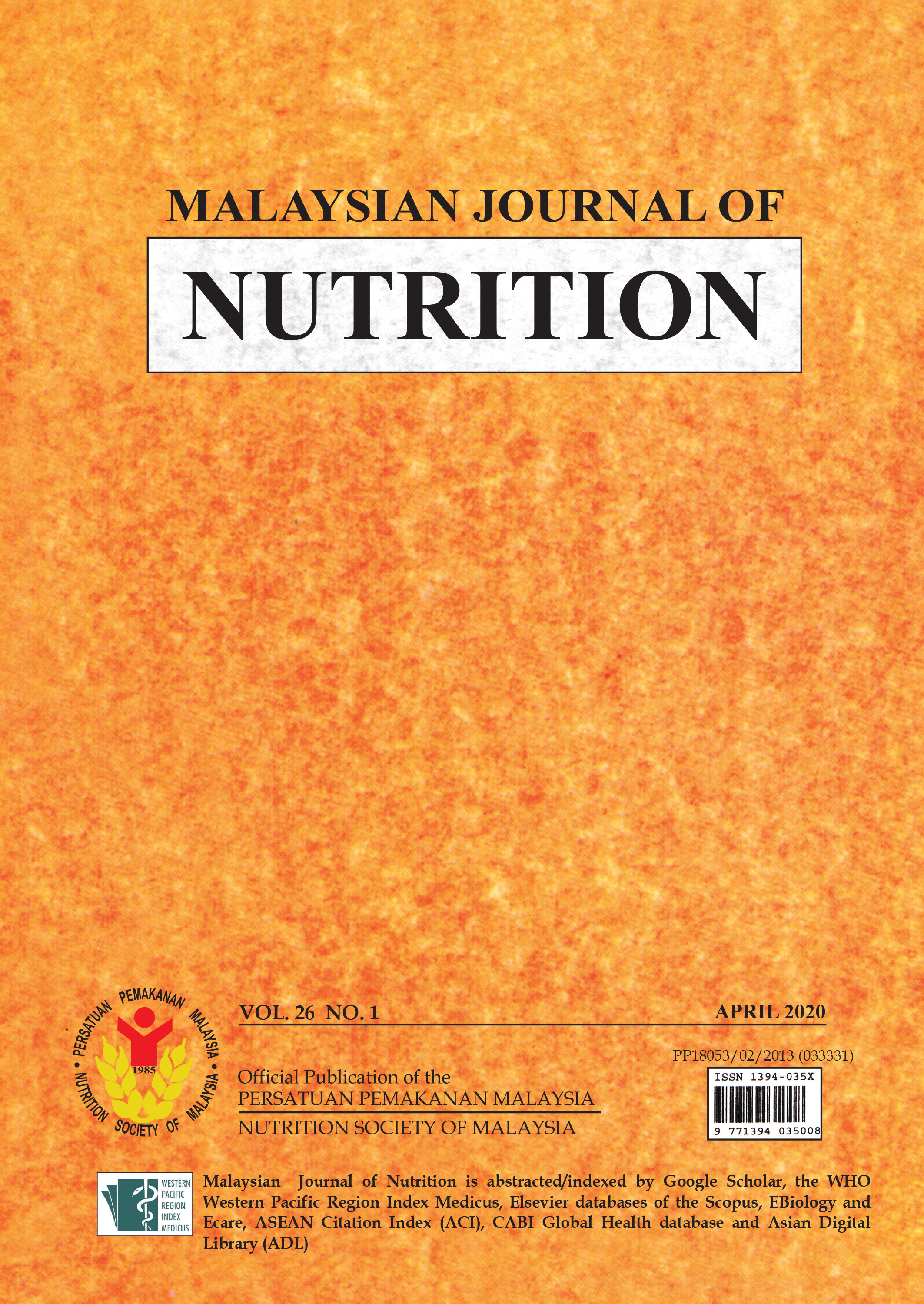 Download PDF
Table of Content
EDITORIAL
Nutrition, Immunity and COVID-19
Hamid Jan B. Jan Mohamed & Tee E Siong Download PDF
Malaysian Food Barometer (MFB): a study of the impact of compressed modernisation on food habits
Jean-Pierre Poulain, Cyrille Laporte, Laurence Tibère, Elise Mognard, Neethianhantan Ari Ragavan, Anis Ashraf Zadeh & Ismail Mohd Noor
doi: https://doi.org/10.31246/mjn-2019-0042
---
Understanding barriers towards the use of food labels among Saudi female college students
Al-Barqi R, Al-Salem Y, Mahrous L, Abu Abat E, Al-Quraishi R & Benajiba N
doi: https://doi.org/10.31246/mjn-2019-0117
---
The role of public health dietary messages and guidelines in tackling overweight and obesity issues
Yi Yi Lee, David Tan, José Siri, Barry Newell, Yi Gong, Katrina Proust & Terry Marsden
doi: https://doi.org/10.31246/mjn-2019-0084
---
Development of a new questionnaire to assess childcare providers' KAP regarding infant and young child feeding
Najihah Mahfuzah Zakria, Tengku Alina Tengku Ismail, Wan Nor Arifin Wan Mansor, Zaharah Sulaiman & Tengku Fatimatul Tengku Hassim
doi: https://doi.org/10.31246/mjn-2019-0113
---
Determination of glycaemic response of a novel cane sugar product incorporated with Phyllanthus emblica and Zingiber officinale extracts
Chathuranga Hasithi Samarasinghe, Madhura Arunoda Jayasinghe, Senadheera Pathirannehelage Anuruddhika Subhashinie Senadheera, Isuru Wijesekara, Binosha Fernando, Kamburawala Kankanamge Don Somathilaka Ranaweera & Nirodha Heshan Bandara Wilamune
doi: https://doi.org/10.31246/mjn-2019-0063
---
Effect of Morus alba (white mulberry) leaf on HbA1c of patients with type II diabetes mellitus
Zoha Sohail, Nighat Bhatty, Saima Naz, Amna Iram & Saghir Ahmad Jafri
doi: https://doi.org/10.31246/mjn-2019-0055
---
Identification of dietary diversity associated with stunting in Indonesia
Laksmi Trisasmita, Trini Sudiarti, Ratu Ayu Dewi Sartika & Asih Setiarini
doi: https://doi.org/10.31246/mjn-2019-0128
---
Nutritional composition of indigenous durian varieties
Parunya Thiyajai, Somsri Charoenkiatkul, Kasem Kulpradit, Sasivimon Swangpol, Piyanut Sridonpai & Kunchit Judprasong
doi: https://doi.org/10.31246/mjn-2019-0083
---
Mango seed kernel flour (Mangifera indica): nutrient composition and potential as food
Fajriyati Mas'ud, Akhmad Rifai & Muhammad Sayuti
doi: https://doi.org/10.31246/mjn-2019-0082
---
Association between adiposity indicators and cardiorespiratory fitness among rural northeastern Thai adolescents
Weerachat Srichan, Tippawan Pongcharoen, Kunchit Judprasong, Pattanee Winichagoon, Sueppong Gowachirapant & Wanphen Wimonpeerapattana
doi: https://doi.org/10.31246/mjn-2019-0092
---
Microwave cooking enhances glycaemic potential of rice: An in vitro study
Bhupinder Kaur, Joseph Lim, Charoonsri Chusak & Christiani Jeyakumar Henry
doi: https://doi.org/10.31246/mjn-2019-0106
---
Vitamin D status is associated with high BMI, working status and gravidity among pregnant Malaysian women
Lalitha Palaniveloo, Yong Heng Yaw, Zalilah Mohd Shariff, Loh Su Peng, Jacques Bindels, Yvonne Yee Siang Tee & Eline M. van der Beek
doi: https://doi.org/10.31246/mjn-2020-0010
---
Malaysian Journal of Nutrition (Mal J Nutr)
Volume 26 No.2, 2020
Download PDF
Table of Content
Development of a tool to measure patients' satisfaction of hospital foodservice in a government hospital
Mariem Boughoula, Rosita Jamaluddin, Nurul Aqmaliza Abd Manan, Hazizi Abu Saad & Muhammad Sharim Ab Karim
ABSTRACT
Introduction
: Dissatisfaction towards the quality of foodservice can affect several important aspects such as nutritional intake and financial burden. The effect of dissatisfaction towards nutritional aspect can be observed via a decline in dietary intake. Therefore, reliable and valid questionnaires are important to measure patients' satisfaction with hospital foodservice. The main purpose of this study was to investigate the construct validity and reliability of a developed questionnaire in a local setting.
Methods
: A questionnaire adapted from previous studies and consisting of 27 statements from four dimensions, was administered to a total of 277 hospitalised patients in a government hospital. Factor analysis and reliability analysis were conducted using SPSS version 25.
Results
: Principal component of factor analysis revealed that the final questionnaire contained four main foodservice dimensions, namely food properties, staff and meal service reliability, customisation, and physical and social aspects. The reliability analysis revealed that the Cronbach's alpha value ranged from 0.55 to 0.84 for these foodservice dimensions. The analysis showed that the alpha value differed from one dimension to another such as food properties (α=0.84), staff and meal service reliability (α=0.67), customisation (α=0.69) and physical and social aspects (α=0.55).
Conclusion
: Twenty-seven questionnaire items were retained because their factor loadings were greater than 0.35. Therefore, the questionnaire on patients' satisfaction towards hospital foodservice was considered reliable and valid. The classification of the four dimensions provided detailed information of the satisfaction level, relationship and influence on the foodservice dimensions, which contributed to satisfaction towards hospital foodservice.
Key words
: Patients' satisfaction, hospital food, hospital foodservice, reliability, validity, factor analysis
Download PDF
---
Body mass index of adults, pre-elderly and elderly in Indonesia (Indonesian Family Life Survey 2014)
Ratu Ayu Dewi Sartika & Eka Rosiyati
doi: https://doi.org/10.31246/mjn-2019-0045
ABSTRACT
Introduction
: Nutritional status is an indicator of health status that can be determined using the Body Mass Index (BMI) (kg/m2). This study aimed to determine factors affecting the nutritional status of adults, pre-elderly, and elderly.
Methods
: This cross-sectional study used secondary data from 13,655 respondents aged 36– 66 years that were a part of the 2014 Indonesian Family Life Survey (IFLS). Food consumption patterns, physical activity, and socio-demographic data were used to assess nutritional status (BMI).
Results
: Consumption patterns of carbohydrates, protein, fat, vegetables, and fruits were significantly associated with mean BMI as an increase in consumption score led to an increase in mean BMI. Conversely, greater physical activity resulted in a decrease in mean BMI. Mean BMI among females was higher than that of males, irrespective of factors such as marital status, unemployment, presence of health insurance, or smoking. Sumatranese people had the highest mean BMI among the population, along with senior high school graduates and high-income earners. Both higher income and education levels led to higher mean BMI.
Conclusion
: Many factors were shown to affect nutritional status. The results imply that solving nutritional problems in order to improve quality of life will involve many factors, including socioeconomic variables, which are important for designing and evaluating health programmes.
Key words
: Nutritional status, adults, pre-elderly, elderly, factors
Download PDF
---
Adiponectin, anthropometric measurements and insulin resistance in adolescence with obesity
Nur Aisiyah Widjaja, Rendi Aji Prihaningtyas, Meta Herdiana Hanindita, Roedi Irawan, IDG Ugrasena & Retno Handajani
doi: https://doi.org/10.31246/mjn-2019-0100
ABSTRACT
Introduction
: Obesity in adolescents can cause metabolic syndrome. Insulin resistance increases the risk of metabolic syndrome, which then increases the risk of premature death. Studies about anthropometric measurements and adiponectin levels as early markers of insulin resistance in obese adolescents are still limited.
Methods
: A cross-sectional study was performed on 59 obese adolescents aged 13–16 years. Obesity was established on the basis of the Centers for Disease Control and Prevention (CDC) curve (2000). Insulin and blood glucose level measurements were carried out using an enzymatic kit. Adiponectin levels were assayed using enzyme-linked immunosorbent assay (ELISA). The relationships between variables were evaluated by correlation analysis using SPSS.
Results
: Statistical tests showed a positive correlation between waist circumference (r=0.421; p=0.001) and Homeostatic Model Assessment of Insulin Resistance (HOMA-IR) (r=0.396; p=0.002). Waist-to-hip ratio (WHR) and waist-to-height ratio (WHtR) had a weak positive correlation with insulin (r=0.343; p=0.008 and r=0.311; p=0.017) and HOMA-IR (r=0.306; p=0.018). There was a weak negative correlation between adiponectin and insulin in obese adolescents (r=-0.278; p=0.033).
Conclusion
: Anthropometric measurements (waist circumference, WHR and WHtR) and adiponectin can be used for early detection of insulin resistance and hyperinsulinemia in obese adolescents.
Key words
: Adiponectin, insulin, HOMA-IR, adolescents, obesity
Download PDF
---
Parental perception of child's body weight status and its association with socio-demographic factors among Malay children in primary schools in Kuala Terengganu, Malaysia
Nurzaime Zulaily, Aryati Ahmad, Mohd Razif Shahril & Amran Ahmed
doi: https://doi.org/10.31246/mjn-2019-0089
ABSTRACT
Introduction
: Obesity rate among school children has increased globally. Parental perception plays a significant role in the management of obesity among children. Previous studies indicated that parents who accurately perceived their child's body weight status (BWS) tended to encourage healthy behaviours as compared to parents who overlooked the problem. Therefore, this study aimed to determine the association between socio-demographic factors with parental perceptions of their child's BWS among school children in Terengganu, Malaysia.
Methods
: Using a cross-sectional study design, 389 school children aged 9 to 11 years old were recruited. Height and weight were measured using calibrated tools and inputted into the World Health Organization AnthroPlus software for body mass index z-score calculation. Parental perceptions of their child's BWS were explored using a selfadministered questionnaire together with their socio-demographic background.
Results
: Of 389 subjects, 53.2% of school children were from rural and 46.8% were from urban schools. Overall, mean BMI-for-age z-score between school locations showed no significant difference, with higher means reported in urban (-0.2±1.6SD) than in rural (-0.4±1.6SD). Significant association was found between parents' perceptions and actual BWS (p<0.001). Logistic regression analysis showed that parents of overweight children and parents in rural schools were more likely to misperceive their child's BWS.
Conclusion
: This finding suggests that parents from rural areas and having overweight children were more likely to have misperceptions of their child's BWS. Therefore, knowledge-based intervention programmes among parents specifically in the rural areas are needed to increase the level of awareness to assist in obesity prevention.
Key words
: Parental perception, body weight, school children, Terengganu
Download PDF
---
School-based nutrition education to improve children and their mothers' knowledge on food and nutrition in rural areas of the Philippines
Idelia G. Glorioso*, Milflor S. Gonzales & Andrea Marie P. Malit
doi: https://doi.org/10.31246/mjn-2020-0004
ABSTRACT
Introduction
: Nutrition education among school children and their mothers is an opportunity to promote lifelong healthy eating behaviours to improve their nutrition and well-being. The present study determined the effectiveness of nutrition education modules in improving children and their mothers' knowledge on food and nutrition. Likewise, changes in attitude and behaviour among children were also determined.
Methods
: Five nutrition education modules were developed with key messages on healthy plate, fruits and vegetables, protein sources, nutrientdense sources of energy, and water and healthy beverages. Grades 2 and 3 students received 60 hours of nutrition education with a duration of 25 minutes per session. Students were divided into two groups: (1) nutrition education alone (n=83) and (2) nutrition education with feeding (n=83). Simultaneously, a total of nine onehour nutrition education sessions were conducted among mothers, following the same five modules taught to the students. Mothers were also grouped according to their child's group.
Results
: Student participants in both groups exhibited improvements in mean scores on knowledge, attitude, and behaviour (KAB) from baseline to end line. Based on results of mothers' classes, mean post-test scores of participants were significantly higher than mean pre-test scores in both groups. Group 1 had a higher increase in score from 67.2±32.8 at pre-test to 71.8±33.7 in post-test.
Conclusion
: The developed nutrition education modules were effective in teaching children proper nutrition. Incorporation of these modules into the K to 12 curriculum will emphasise importance of proper nutrition in early childhood. Moreover, mothers' classes can be an effective way to bridge the gap between school and community nutrition interventions.
Key words
: School-based nutrition education, nutrition knowledge scores, mothers' nutrition classes
Download PDF
---
Food consumption behaviours and associated personal and socio-economic factors in elderly adults, Northeastern Thailand
Pruksa Supannee
doi: https://doi.org/10.31246/mjn-2019-0095
ABSTRACT
Introduction
: This research was a cross-sectional study. The objective was to study food consumption behaviours and associated factors in elderly adults in the Northeastern Region.
Methods
: The study included 1,336 older adults (age >60 years) from five provinces, i.e. Udornthani, Nakornratchasima, Mahasarakam, Nakhonpanom and Amnatcharoen. Random multi-stage sampling was used, and data were collected through interview. The statistics used for content analysis was percentage, mean, standard deviation (SD) and multiple logistic regression analysis.
Results
: The food consumption behaviours of the study population was fair or poor (60.0%), followed by good (40.0%). Multiple logistic regression revealed that there were some personal factors that were significantly associated with food consumption behaviours. These factors included sex, education level, living condition, health condition, knowledge, attitude and preference of food. Regarding the effect of socioeconomic factors towards food consumption behaviours, it was found that those effects included food sources and food factors.
Conclusion
: Local health authorities should pay attention to the factors mentioned above in order to designate policies or methods to oversee future food consumption behaviours in the elderly.
Key words
: Food consumption behaviours, factors, elderly, Thailand
Download PDF
---
Randomised clinical trial of rice germ supplementation on nutritional status and performance in trained swimmers: A pilot study
Mariangela Rondanelli, Simone Perna, Gabriella Peroni, Milena A. Faliva, Mara Nichetti, Giancarlo Iannello, Vittoria Infantino, Clara Gasparri, Daniele Spadaccini & Davide Guido
doi: https://doi.org/10.31246/mjn-2019-0071
ABSTRACT
Introduction
: Rice germ (RG) could be a safe and effective dietary supplement for swimmers.
Methods
: This randomised, parallel, placebo controlled pilot study investigated the effect of a five-week RG supplementation (25 grams/two times/day) in moderately trained swimmers on 50-m and 200-m front crawl at maximal speed, as primary outcome, and body composition, muscle function, post-concussion assessment, cognitive testing (ImPACT) and lactic acid levels, as secondary outcomes. Twenty seven moderately trained swimmers (7 women and 20 men) participated in the study.
Results
: For primary outcome on 200-m front crawl at maximal speed, a significant average decrease of 2.98 seconds (p=0.022) was detected in RG group, but it was not significant compared to placebo. On 50-m front crawl at maximal speed, no statistically significant intra- or inter-group differences were detected. Regarding secondary outcomes, no difference was demonstrated between preperformance and post-performance lactic acid levels. Comparing the treatment with placebo across follow-up, mean mid-arm muscle circumference (MAC) increased weekly and significantly by 0.23 cm (p=0.026), as well as 0.36% for gynoid fat (p=0.005). In addition, a decrease of 0.13kg in fat-free mass (p=0.067) was also detected. No statistically significant intra- or inter-group differences were detected for secondary outcomes.
Conclusion
: This pilot study provided early evidence that RG supplementation may positively affect nutritional status and partially, the performance of moderately trained swimmers. Further research is needed to clarify the mechanisms of action, the optimal timing of supplementation, as well as the most effective dose.
Key words
: Rice germ, swimmers, nutritional supplement, lactic acid, fat-free mass
Download PDF
---
Prevalence and factors associated with folate deficiency among Filipino women of child-bearing age
Aiza Kris M. Bernardo, Normahitta P. Gordoncillo, Liezl M. Atienza, Maria Theresa M. Talavera & Mariam C. Recuenco
doi: https://doi.org/10.31246/mjn-2019-0075
ABSTRACT
Introduction
: Folate deficiency is associated with many complications of pregnancy. A cross-sectional survey was conducted to determine the prevalence and factors associated with deficiency in red blood cell (RBC) folate among Filipino women of child-bearing age in the Province of Batangas, Philippines.
Methods
: A total of 184 Filipino women aged 15 to 49 years were interviewed on their socio-economic and demographic profiles. Mean energy and folate intakes were obtained using food recalls over a three-month period. RBC folate was used to measure long-term folate status and analysed through immuno-assay method.
Results
: About two in ten women were folate deficient based on the normal cut-off points (<400 ng/mL) preventive of neural tube defect-affected pregnancies. Respondents have very low intake of folate at 81 and 239 micrograms dietary folate equivalent (μg DFE) from dietary sources and with folic acid supplementation, respectively. Vegetable gardening and livestock raising (p<0.10) and use of folic-acid containing supplements showed significant correlations with folate status (p<0.05). Further, regression analysis showed that among the significant factors, the non-usage of folic acid-containing supplements showed increased likelihood of RBC folate deficiency by six times compared to users (OR=6.391, p<0.10).
Conclusion
: The findings of the study suggest a high prevalence of folate deficiency among Filipino women. Folate is an essential nutrient for healthy pregnancy. It is important that women, capable of bearing a child must assure adequate folate intake from foods and folic-acid containing supplements. The study recommends a more aggressive campaign on the importance of folate among women of child-bearing age.
Key words
: Folate, dietary folate equivalent, neural tube defects, red blood cell folate deficiency, women of child-bearing age
Download PDF
---
Association between quality of life and handgrip strength among malnourished gynaecological cancer outpatients, National Cancer Institute
Aini Masitah Mohammad, Zalina Abu Zaid, Ho Chiou Yi, Zuriati Ibrahim, Zulfitri 'Azuan Mat Daud, Nor Baizura Md. Yusop, Norshariza Jamhuri & Zuwariah Abd Rahman
doi: https://doi.org/10.31246/mjn-2019-0096
ABSTRACT
Introduction
: Malnutrition is common among cancer patients and it is reported in a significant proportion of patients with gynaecological cancer (GC). The aim of this study was to determine the association between quality of life (QOL) and hand grip strength (HGS) among malnourished GC outpatients in the National Cancer Institute (NCI).
Methods
: This study was carried out in a Multidisciplinary Clinic of NCI. HGS was measured using Jamar Hand Dynamometer. Nutritional status was assessed using the scored Patient-Generated Subjective Global Assessment (PGSGA). QOL was measured using the validated European Organisation for Research and Treatment of Cancer Questionnaire (EORTC-QLQ C30).
Results
: A total of 69 patients were selected for the study. Fifty eight (84.1%) were classified as moderately malnourished or at risk of malnutrition (PG-SGA B) and 11 (15.9%) were classified as severely malnourished (PG-SGA C). There was a moderate, significant positive relationship between HGS and functional status (rs=0.275, p=0.022) observed in this study. Besides, in malnourished GC patients with low HGS, results indicated that they had problems with social functioning as well (r=0.255, p=0.035). Appetite was suggested as a predicting factor for low HGS among malnourished GC patients (F=12.253, p=0.001).
Conclusion
: HGS is a simple objective indicator of functionality and is, therefore, a valid item to be measured when assessing QOL of malnourished GC outpatients.
Key words
: Gynaecological cancer, nutritional status, quality of life, handgrip strength
Download PDF
---
Factors associated with malnutrition among head and neck cancer in-patients before radiotherapy in National Cancer Institute, Putrajaya
Neoh May Kay, Zalina Abu Zaid, Zuwariah Abdul Rahman, Norshariza Jamhuri, Zuliehaiza Kahairudin, Siti Noraini Ahmad Samwil, Aeininhayatey Abdullah, Ho Chiou Yi, Betti Sharina Haniff Lai, Ng Wai Han, Aini Masitah Mohammad, Nor Baizura Md Yusop, Zuriati Ibrahim & Zulfitri 'Azuan Mat Daud
doi: https://doi.org/10.31246/mjn-2019-0094
ABSTRACT
Introduction
: Head and neck cancer (HNC) patients are often malnourished during diagnosis and before treatment. This study determined the prevalence of malnutrition and factors associated with malnutrition among HNC patients.
Methods
: A crosssectional study among HNC in-patients before radiotherapy was conducted. Malnutrition status of the patients was determined using scored Patient Generated- Subjective Global Assessment (PG-SGA). Nutritional parameters of muscle mass, fat mass, albumin, energy and protein intakes were collected. Nutrition impact symptoms (NIS) of the patients were assessed using a validated Head and Neck Symptoms Checklist© (HNSC©).
Results
: Fifty HNC patients were recruited in this study and the age range of patients was 21 to 78 years old, with gender distribution of 78% males and 22% females. More than half of the patients were malnourished, with 20% severely malnourished before radiotherapy. The lack of dietitian referral before treatment was found to significantly affect nutritional status (p=0.027). There was a significant negative relationship between energy intake (r=0.342, p=0.015) and protein intake (r=0.386, p=0.006) with PG-SGA, indicating lower energy and protein intakes related with poor nutritional status. The result showed a significant positive relationship between NIS score (r=0.731, p<0.001) and PG-SGA, indicating the lower the NIS, the better the nutritional status among HNC patients. More than half of the HNC patients had difficulty chewing.
Conclusion
: A strong association between nutritional status and NIS showed the importance of dietary management in HNC patients. Early identification of the nutritional status of HNC patients can ensure optimal nutritional status to improve treatment outcomes.
Key words
: Head and neck cancer, nutritional status, nutrition impact symptoms, energy intake, protein intake
Download PDF
---
Dietary diversity, vitamin D intake and childhood stunting: a case-control study in Bantul, Indonesia
Eka Nurhayati, Bunga Astria Paramashanti, Dewi Astiti & Arif Sabta Aji
doi: https://doi.org/10.31246/mjn-2020-0021
ABSTRACT
Introduction
: Stunting is known to be a major public health problem among Indonesian children. We aimed to examine the association between dietary diversity and vitamin D intake with stunting in children aged 6-23 months.
Methods
: This case-control study was conducted in Bantul District, Yogyakarta Special Region, Indonesia. A total of 79 subjects aged 6-23 months were selected for each case and control group based on their stunting status. We assessed potential explanatory variables at the child, parental, household, and community levels.
Results
: Factors which were significantly associated with stunting included young children aged 18- 23 months (adjusted OR = 3.84; 95% CI: 1.17-12.26), birth length ≥48 cm (adjusted OR = 0.36; 95% CI: 0.16-0.83), inadequate intake of vitamin D (adjusted OR = 5.18; 95% CI: 1.03-26.02), and diversified diet (adjusted OR = 0.17; 95% CI: 0.03-0.92). Other variables such as household economic status, living residency, history of exclusive breastfeeding, and infectious diseases, as well as intakes of energy and protein were not significantly related to stunting.
Conclusion
: Minimum dietary diversity, vitamin D intake from complementary foods, and birth length were associated with stunting status among children. Therefore, it is crucial to focus on stunting prevention programmes in the first two years of life, or even since the preconception period.
Key words
: Stunting, dietary diversity, vitamin D, determinants, Indonesia
Download PDF
---
Anti-inflammatory effects of functional milk drink enriched with soya bean sprout protein in breastfeeding mothers
Hery Winarsi, Alice Yuniaty & Gumintang Ratna Ramadhan
doi: https://doi.org/10.31246/mjn-2019-0110
ABSTRACT
Introduction
: Increased metabolism during pregnancy and breastfeeding results in increased oxidative stress among mothers. However, daily intake of foods containing antioxidants can improve antioxidant and inflammatory status. The objectives of this research were to formulate a soya bean sprout protein milk (SSPM) functional drink; to know its protein and isoflavone contents; and its effect on interleukin 6 (IL-6) level in plasma and breast milk (BM) of breastfeeding mothers.
Methods
: The study begun with the production of soya bean sprout protein extract (SSPE), followed by preparing five formulated SSPM, namely SSPE, low-calorie sweetener, fructose, skim milk, and salt. The formulated products were subjected to organoleptic test on a scale of 1 (extremely dislike) to 5 (extremely like). Fifty mothers aged 20-35 years who had a newborn up to six months old, in good health condition, and with informed consent were recruited. They were randomly divided into two groups: group I was fed SSPM for two months, 150 ml/day every morning, and group II was treated as placebo. Data were analysed with one-way analysis and paired sample t-test.
Results
: The preferred SSPM composed of 65.0% SSPE, 1.5% low-calorie sweetener, 6.0% fructose, 27.0% skim milk, 0.5% salt, and containing 13.77±0.001% protein and 229.9±0.001mg/g isoflavone content. Two months after intervention, there was a decrease in the level of IL-6 by 82.5% in the plasma (p=0.015) and 68.1% in BM (p<0.05). Body mass index (BMI) decreased from 22.77 to 20.64 kg/m2 (p=0.019).
Conclusion
: SSPM is a potential anti-inflammatory agent and has health benefits for breastfeeding mothers.
Key words
: Formula of functional drinks, soya bean sprout protein milk, isoflavone, IL-6, BMI
Download PDF
---
The relationship between health risk and consumption of confectioneries: An instrumental variable approach
Yong Kang Cheah, Mohd Azahadi, Noor Safiza Mohamad Nor, Siew Nooi Phang & Noor Hazilah Abd Manaf
doi: https://doi.org/10.31246/mjn-2019-0076
ABSTRACT
Introduction
: Consumption of confectioneries is a determinant of health risk. However, how health risk determines the intake of confectioneries remains unclear. The objective is to examine how waist circumference (WC) as a measurement of health risk influences the consumption of confectioneries among adults. The research question is that do high-risk people consume more confectioneries than low-risk people?
Methods
: A quantitative research design with a focus on establishing a correlation between the measurement of health risk and consumption of confectioneries was adopted. Secondary analysis of a nationally representative cross-sectional data was used. The population of interest was the Malaysian population, regardless of being obese or non-obese. Analyses stratified by body mass index (BMI) or WC were not conducted. An instrumental variable (IV) approach was used to estimate the regression of consumption of confectioneries. BMI was used as an IV for WC. In the first stage, we regressed WC on all exogenous variables, including BMI. Then, we replaced the original values of WC with the fitted values of WC.
Results
: BMI was an appropriate IV for WC. An additional cm of WC was associated with a 0.022 unit of reduction in the serving of confectioneries per week. The negative relationship between WC and consumption of confectioneries indicated that adults who had high health risk consumed lesser confectioneries than adults who had low health risk.
Conclusion
: Drawing from the IV regression results, the present study highlighted that people with high health risk, rather than people with low health risk, were less likely to consume confectioneries.
Key words
: Body mass index, confectionery, health risk, obesity, waist circumference
Download PDF